Enter to win Robert Bannon: Rewind - Live in Concert at The Green Room 42!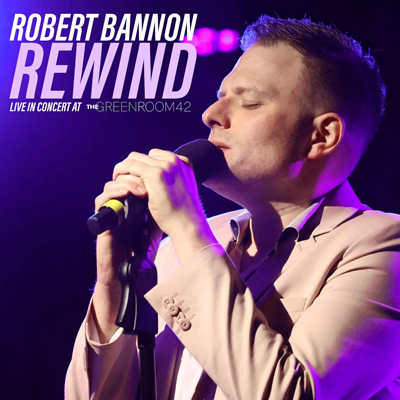 Enter to win Robert Bannon: Rewind - Live in Concert at The Green Room 42! To enter the contest, fill out the form below between Friday, November 3, and Friday, November 24.
SNL actor, talk show host of 'The Roundtable', and cabaret star, Robert Bannon has released his new album "Rewind - Live in Concert at the Green Room 42". The album is available digitally on all platforms.
Recorded live in front of a sold-out crowd at New York City's The Green Room 42 on October 22nd, 2022, Rewind is directed by Robbie Rozelle, and featuring Yasuhiko Fukuoka on piano, David Cinquegrana on guitar, Simon Fishburn on drums, and Wesley Bourland on bass. The concert was written by Bannon and Rozelle, with music direction and arrangements by Fukuoka.
The album "Rewind - Live in Concert at The Green Room 42" is produced by Robbie Rozelle, Yasuhiko Fukuoka and Robert Bannon. Engineered by Sheridan Glover, the album is mixed and mastered by Yasuhiko Fukuoka.
"Rewind" possesses the excitement and banter of Bannon's personality while adding his "Powerhouse Vocals" by Broadway World. Throughout the jam-packed 60 minutes of music are his tales of Italian/Irish heritage, his parent's love and support, and his queer flare. The album leads with songs by icons Elton John, Dolly Parton, Liza Minnelli, Whitney Houston, Barry Manilow, and more. In addition, a mashup of the Harry Chapin classic "Cats In The Cradle" with Bannon's Pride Anthem "I Think He Knew."
Bannon released "Unfinished Business" which debuted at the Top of the Amazon A/C Chart in 2021, his most personal show yet. Now "Rewind" brings along his journey growing up in Ridgefield Park, NJ; while tackling the discovery of his love for music (all things Manilow), figuring out a first date, a crippling illness that distanced him from art, and discovering that all roads no doubt lead to home. This love letter expresses the joy of starting all over again, never giving up, and Jersey.
Track Listing:
I'm Still Standing
I was Born October 31st...
The Muppets Medley
There was no YouTube...
But the World Goes 'Round
Robert Bannon Sings the Songs...
The Barry Manilow Megamix
Every Single Day
A Friend of Dorothy
I Wanna Dance with Somebody
All the Greatest Musicals of the 90s...
What You Own
I am a Proud College Dropout...Twice!
9 to 5
My Dad Used to Have an 8-Track
Cat's in the Cradle / I Think He Knew
Let's Fast-Forward
Once Before I Go
MORE ABOUT ROBERT BANNON
Robert has appeared on "SNL," "The Real Housewives of NJ, hosts "The Roundtable" on YouTube and the Broadway Podcast Network, and created The Broadway Lecture Series. He has had the chance to interview such stars as Lin Manuel Miranda, Jessica Chaistain, Josh Groban, and hundreds of others. As a recording artist, his debut album, "Unfinished Business" debuted at #1 on the Amazon A/C Chart.
In addition to his work on "Saturday Night Live" the past three years, Bannon has performed with a number of rhythm-and-blues, jazz and comedy icons including Patti LaBelle, George Benson, Laura Benanti and Whoopi Goldberg at legendary venues like Madison Square Garden, the Beacon Theater and the Brooklyn Academy of Music, and has traveled the country performing his hit one-man show, "Unfinished Business," including at New York's famed Feinstein's/54 Below and Feinstein's At Vitellos in Los Angeles.
He's also performed in national touring and regional productions of "My Big Gay Italian Wedding," "Rent," "We Will Rock You," "My Way" and more.
In his downtime, Robert is a 5th-grade teacher in North Bergen, NJ.
Social Media:
IG- @ RobertMBannon
Tik Tok- @ RobertMBannon
Website- www.RobertBannon.com
YouTube- www.YouTube/RobertBannon
This contest expired on Friday, Nov 24, 2023. Click here for other contests to enter.