Hoping to empower others, one queer book at a time
Some of Erie's Queer community worked together to collect many queer books for distribution throughout the area via the Little Free Library System. In conjunction with Banned Book Week, which ran from October 1-7, books were collected at Journey to a Trauma Informed Life on the evening of Tuesday, October 3.
Volunteers helped sort through the 474 books as well as add QR codes to them. The goal is for someone to find a queer book who may not have access to them. This past summer, the week before the annual Pride celebration in Erie, librarians were forced to remove a queer book display at the library's main branch due to unpublished complaints. Similarly, banned books have been removed from school district libraries such as Penncrest in Crawford County. The QR codes would then direct the reader to the NW PA Pride Alliance's website with links to the other eight local queer organizations that helped to make this event possible.
Participating in the event in addition to NW PA Pride Alliance, Aging with Pride, PA Equality Project, TranFamily of NW PA, Journey to a Trauma Informed Life, Erie Gay News, Journey Healing Together, Free Mom's Hugs and Greater Erie Alliance for Equality.
To find a map of where the Little Free Libraries are, browse to https://littlefreelibrary.org/map/.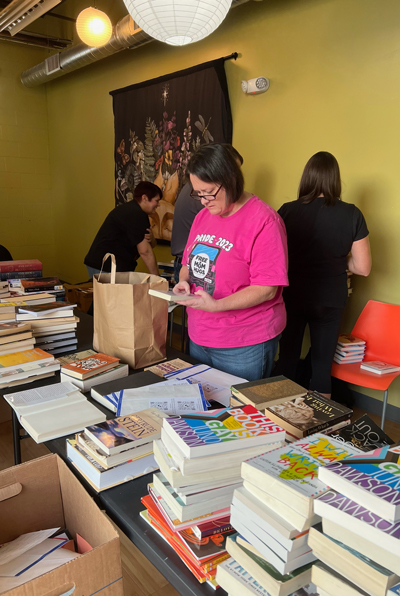 Kim Perrine, co-chapter leader of Erie's Free Mom's Hugs helps in sorting the 474 queer-themed books that were collected.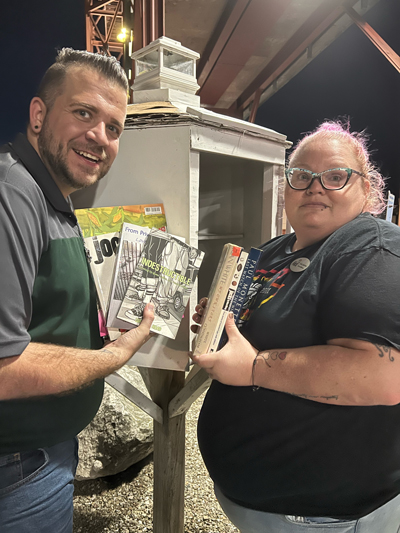 NW PA Pride Alliance President Alex Sphon and board member Juilie Lebow help distribute some of the 474 queer books to one of the Little Free Library System's libraries in Erie and Crawford County.