Speaker Emerita Nancy Pelosi Celebrated Her More than Three and a Half Decades of U.S. Congressional Service with the National AIDS Memorial on June 17
Speaker Emerita Pelosi rolled up her sleeves alongside hundreds of community volunteers, friends and family members caring for the National AIDS Memorial Grove in Golden Gate Park,the only federally-recognized memorial to the HIV/AIDS epidemic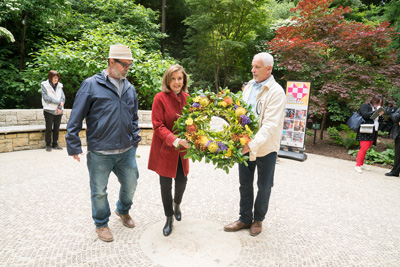 Speaker Emerita Nancy Pelosi displays the Grove Volunteer Workday Commemorative Wreath along with John Cunningham, CEO, National AIDS Memorial on the right, and Mike Shriver, former National AIDS Memorial board member and AIDS Activist, on the left. Speaker Emerita Nancy Pelosi joined more than 200 volunteers for the Community Workday in the National AIDS Memorial Grove ("the Grove") on June 17th to commemorate her decades of service in Congress.
SAN FRANCISCO, June 17, 2023 - Speaker Emerita Nancy Pelosi celebrated her decades of service in the United States Congress at the National AIDS Memorial Grove ("the Grove") during its June 17 Community Volunteer Workday. The commemorative event coincided with the anniversary of her swearing in to Congress and highlighted her justice-centered values of Love, Action & Leadership.
Speaker Emerita Pelosi has always led the nation's charge to combat HIV/AIDS. She ran her first campaign on an AIDS platform, and supported major funding, research and programs that have been critically important in advancing the quality of life and longevity for those living with the disease. On her first day serving in the House of Representatives in 1987, she broke with tradition by speaking from the lectern and demanding that her colleagues support funding to fight the disease that had impacted thousands of her constituents, and to eliminate the stigma surrounding those living with HIV/AIDS.
The Grove is a fitting site to recognize her many historic achievements. In 1996 she successfully oversaw the passage of legislation, signed by President Bill Clinton, designating San Francisco's AIDS Memorial Grove as a National Memorial. She has faithfully observed her Congressional career milestones by planting commemorative trees at the Grove on her 10th, 20th, 25th and 30th anniversaries. As a frequent volunteer in the Grove, she has brought her family and grandchildren to participate in many workday activities.
Through the Speaker Emerita's support of research, care, treatment and prevention initiatives vital to people living with or at risk for HIV/AIDS, she has led hard-won victories over the decades:
she helped secure billions in funding for HIV/AIDS initiatives that saved millions of lives, and provided testing, counseling and care to some of the most vulnerable men, women and children around the world;
her unflinching leadership helped accelerate development of an HIV vaccine, expanded access to Medicaid for people living with HIV, increased funding for the Ryan White CARE Act, the AIDS Drug Assistance Program (ADAP), and the Minority HIV/AIDS Initiative;
she created and secured record-level funding for the HOPWA program to ensure stable, affordable housing for low-income people living with HIV/AIDS;
as Democratic Leader, she supported President Bush's bilateral initiative, PEPFAR (President's Emergency Plan for AIDS Relief); worked with Presidents Bush and Obama to more than double bilateral funding for global AIDS, increasing the U.S. contribution to the Global Fund by twofold; and successfully fought President Trump's proposed budget cuts to global HIV/AIDS programs, protecting an increase to PEPFAR and the Global Fund, thereby preserving the U.S.'s commitment to a 33 percent share to the fund;
she spearheaded the passage of the Affordable Care Act, which provides significant benefits for those living with HIV/AIDS.
Now, Speaker Emerita Pelosi is working with the Biden/Harris Administration to combat HIV/AIDS at home and abroad-fighting to end the epidemic by 2030, updating the nation's comprehensive strategy to aggressively reduce new cases, and ending racial disparities in HIV/AIDS by increasing equitable access to treatment and services.
Speaker Emerita Pelosi's efforts on social justice issues throughout her career have been informed by her early work on the HIV/AIDS crisis. She has always been a passionate LGBTQ+ ally, guided by her commitment to justice, love and fairness, and celebrated by the LGBTQ+ community for her unwavering support through legislation and public actions. For example, she participated in some of the earliest meetings of the AIDS Memorial Quilt, was instrumental in its inaugural display on the National Mall, and played a key role in transitioning the Quilt's stewardship to the National AIDS Memorial, and its celebrated return to the San Francisco Bay Area.
"The National AIDS Memorial Grove is sacred ground for healing, hope and remembrance - serving as a monument to the beautiful souls lost to the HIV/AIDS epidemic," Speaker Emerita Nancy Pelosi said. "San Francisco is ground zero in the fight against HIV/AIDS, and our City is proud to be home to the Grove as a powerful tribute of remembrance and renewal. Today, it was my privilege to participate in the Community Volunteer Workday at the Grove to preserve this solemn space to remember those we have lost for generations to come, as we continue our fight to achieve an AIDS-free generation."
Today, Speaker Emerita Pelosi participated in a tree planting on the North Slope of the memorial before joining others in the Grove volunteer activities. She gave brief remarks after live performances by the New Voices Bay Area TIGQ Chorus and award-winning singer and activist Bishop Yvette Flunder, followed by a community lunch.
"The National AIDS Memorial is so honored to have this special, enduring relationship with Speaker Emerita Pelosi-from the darkest days of the AIDS pandemic to today," said National AIDS Memorial CEO John Cunningham. "Her courage stands as a guiding light for those who have fought and continue to fight against hate, racism, denial and stigma so all people in every community can thrive in a just society. Our Congresswoman has always had our back, not only keeping the nation's attention on the AIDS crisis, but also helping our organization steward the beautiful National AIDS Memorial Grove as the place to heal in nature. She has always understood the power and beauty of the Quilt and the Grove, and will continue to be our touchstone of inspiration. As we look to the horizon, we are emboldened by Speaker Emerita's ongoing support of this organization's vision to keep health and social justice at the very center of our work."
About the National AIDS Memorial
The mission of the National AIDS Memorial is to share the story of the struggle against HIV/AIDS and to remember, in perpetuity, the lives lost, offer healing, and hope to survivors, and inspire new generations of activists in the fight against stigma, denial, and hate for a just future.
Through the AIDS Memorial Quilt, the National AIDS Memorial ensures that the story of AIDS and the AIDS movement is never forgotten and connects decades of healing, hope, remembrance and survival to the health and social justice issues faced by society today. The National AIDS Memorial Grove is a living tribute to all whose lives have been touched by AIDS. Set in the ten-acre de Laveaga Dell, it is an open public space where people gather to heal and remember. The Memorial began as a grassroots effort in 1989 by local residents searching for a positive way to express grief in a community devastated by AIDS. Since the founding of the National AIDS Memorial, tens of thousands of volunteers have contributed more than half a million hours to the Quilt and the Grove. Learn more at www.aidsmemorial.org.