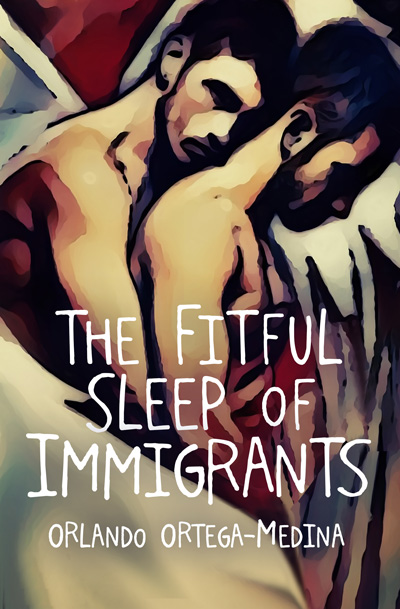 Enter to win The Fitful Sleep of Immigrants! To enter the contest, fill out the form below between Tuesday, April 18, and Tuesday, May 9.
The Fitful Sleep of Immigrants
By Orlando Ortega-Medina
A TWISTY, PSYCHOLOGICAL THRILLER INSPIRED BY REAL-WORLD EXPERIENCES WITH SYSTEMIC DISCRIMINATION
Award-winning author and immigration attorney Orlando Ortega-Medina returns with The Fitful Sleep of Immigrants(April 18, 2023, Amble Press), a powerful family drama that plays out within a captivating legal thriller.
It's the 1990s in San Francisco and Attorney Marc Mendes, the estranged son of a prominent rabbi, is a burned-out lawyer with addiction issues. He's plotting his exit from the big city to a more peaceful life in idyllic Napa Valley, but before realizing this dream, the US government summons his Salvadoran life partner Isaac Perez to immigration court, threatening him with deportation.
As Marc battles to save Isaac, his world is further upended by a dark and alluring client who aims to tempt him away from his messy life. Torn between his commitment to Isaac and the pain-numbing escapism offered by his client, Marc is forced to choose between the lesser of two evils while confronting his twin demons of past addiction and guilt over the death of his first lover.
Inspired by events that forced the author and his partner to emigrate from the United States because of marriage inequality, The Fitful Sleep of Immigrants is an extraordinary and timely tale about the value of family and friendship, loyalty and love in the face of adversity.
"Ortega-Medina's novel works on many levels-as a twisty romantic melodrama; as an exposé of the cruelties of immigration law; and as a meditation on family and homeland...[his] prose captures characters' psychologies in the subtleties of gesture and language...a riveting yarn with a charismatic tempter."
-Kirkus Reviews (starred review)
PREORDER NOW ON AMAZON AND EVERYWHERE YOU BUY BOOKS!
ABOUT THE AUTHOR

Orlando Ortega-Medina was born in Los Angeles to (Sephardic Bnei Anusim) immigrants from Cuba. He studied English Literature at UCLA and has a Juris Doctor law degree from Southwestern University School of Law. At university, he won the National Society of Arts and Letters award for Short Stories.
In August 1999, Orlando and his life partner expatriated to Canada in search of same-sex equal rights. And in 2005, taking advantage of Canada's recognition of same-sex marriage, he and his partner were among the first same-sex couples to marry at Montreal's Hotel de Ville. Subsequently, in 2014, pursuant to new legislation in the United Kingdom allowing same-sex couples to solemnize their marriages in religious houses of worship,Ortega-Medina and his husband were married in a Jewish wedding ceremony at West London Synagogue.
Orlando is the Senior Associate and founder of Ortega-Medina & Associates. He has been representing clients on a worldwide basis in the fields of US business immigration, nationality and consular law since 1993. Orlando holds US, UK, Canadian, and Israeli nationality and has practiced US business immigration in three of these countries.
His short story collectionJerusalem Ablaze was shortlisted for The Polari First Book Prize (2017). In 2018, he was named the Marilyn Hassid Emerging Author for the Houston Jewish Book & Arts Festival. He is the author of three novels,The Death of Baseball (2019), The Savior of 6th Street (2020), andThe Fitful Sleep of Immigrants(2023).
Orlando currently lives in London, where he practices United States immigration law and writes fiction.
This contest expired on Tuesday, May 09, 2023. Click here for other contests to enter.