"SAVE THE RAINBOW FLAG" Campaign Launched to Fight Dangerous Trend of Banning LGBTQ Pride/ Rainbow Flag in towns across USA
ACLU, and GILBERT BAKER FOUNDATION join forces, Creates Toolkit to help fight censorship and anti- LGBTQ sentiment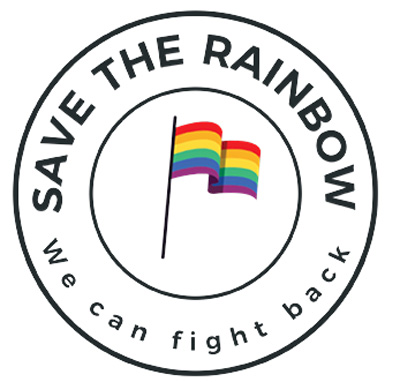 New York City (February 15) - A disturbing new trend is emerging across the US of banning the Rainbow Flag, the global symbol of LGBTQ+ equality, on a community level and in local schools. The Gilbert Baker Foundation has responded with an aggressive multi-part national campaign.
The flag bans are part of a larger and insidious rise in American conservative censorship, including book banning, school curriculum changes, language shaming, and restriction of reproductive rights.
Addressing this dangerous development, "Save the Rainbow Flag" is a lifeline to those under fire, offering a dynamic tool kit to help push back against conservative groups who are trying to ban the public display of the flag. Since 2022, more than 15 communities and school departments across the country, bowing to right-wing group pressure, have passed regulations to remove all Rainbow Flags. They include cities and towns from NY to California including Cold Spring, NY; Stoughton, MA; Davis, UT; Newburg, OR; and Morgantown, WV. And Huntington beach CA
"Save the Rainbow Flag" provides First Amendment and LGBTQ+ rights supporters with tools to challenge this alarming censorship trend. At www.savetherainbowflag.com, concerned citizens will find fact sheets and tactics for how to challenge these homophobic efforts on the local level, through community hearings, media interviews, petitioning, and by mobilizing neighbors.
"Make no mistake; right-wing groups want to roll back LGBTQ+ rights, and they're starting with banning the Rainbow Flag," said Charley Beal, president of the Gilbert Baker Foundation. "It's part of a huge conservative trend to squelch and censor minority rights across America. There ten bans in September 2022 alone. (Link to graphic here) The 'Save the Rainbow Flag' campaign empowers people at the grass-roots level to fight back, working through legal channels on their home turf. Already, bans have been reversed, but every month brings a new threat to LGBTQ+ rights and equality. It's time to stop the haters."
The centerpiece of the Save the Rainbow Flag tool kit is an Open Letter from the American Civil Liberties Union, citing legal precedents on why banning the Rainbow Flag goes against existing laws. The Save the Rainbow Flag tool kit includes a draft letter to local officials, sample letter to the editor, and other information to support community advocates fighting flag bans locally.
"This rising incidence of towns and schools banning the LGBTQ+ Rainbow Flag is deeply disturbing," said Li Nowlin-Sohl, Senior Staff Attorney for the American Civil Liberties Union Foundation. "As an organization dedicated to upholding First Amendment rights, the ACLU proudly supports the Gilbert Baker Foundation's "Save The Rainbow Flag" campaign to push back against this dangerous trend. Censorship powered by bigotry hurts us all."
---
For more information about The Gilbert Baker Foundation, visit gilbertbaker.com. Founded in 2019, the Foundation is a not-for-profit organization that honors the legacy of artist-activist Gilbert Baker (1951-2017), creator of the original Rainbow Flag, through a series of cultural and educational initiatives.
The American Civil Liberties Union is our nation's guardian of liberty, working daily in courts, legislatures and communities to defend and preserve the individual rights and liberties that the Constitution and laws of the United States guarantee everyone in this country.