Human Rights Campaign, Drag Artists, and Other LGBTQ+ Groups Call Attention to Tennessee Lawmakers' Attempts to Silence LGBTQ+ Culture
Nashville, Tennessee - February 15, 2023 - Yesterday, the Human Rights Campaign (HRC), local drag artists, along with other LGBTQ+ advocacy organizations, hosted a press conference bringing attention to Tennessee lawmakers' discriminatory attempts to restrict drag-related performances. These latest moves out of Nashville are part of greater efforts to ban LGBTQ+ events, spaces, and culture, with the goal of pushing LGBTQ+ people back in the closet. Speakers at today's briefing highlighted the implications of several bills currently moving through the state legislature. Find photos from the event here.
Senate Bill 03 is an anti-LGBTQ+ bill that would ban many drag performances from taking place on any public property in the state, as well as in any location where people under 18 could be present. Its companion bill, House Bill 09, is currently moving through the lower chamber, along with House Bill 30, which goes even further by requiring all drag performances to obtain a permit.
Since 2015, Tennessee has passed more anti-LGBTQ+ bills into law than any other state.
"These lawmakers know that there's a difference between a drag performance at a bar and age-appropriate drag appearances at libraries and parades- where my child has learned so many virtues that are fundamental to growing up," said HRC's Dakerri Rhone, who currently sits on the organization's Board of Governors. "With this being said, I have a clear message to our lawmakers: The soul of Tennessee is at a crossroads and the rest of our country is watching."
Additional speakers included drag entertainers Britney Banks and DeeDee, Phil Cobucci, Founder of Inclusion Tennessee, Dahron Johnson, Community Education & Outreach Lead at Tennessee Equality Project, and Molly Quinn, Executive Director of OUTMemphis.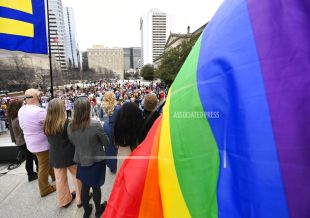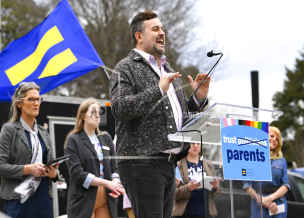 "Governor Lee- You talk about your faith often," said Cobucci. "I implore you to look at the teachings of your faith, and yourself if these bills align with the tenants of compassion, loving your neighbor, helping others. I assert here today, they do not. What would your Jesus do? Not this. Governor Lee, stand up to the hatred spewing from your legislature."
In a coordinated push led by national anti-LGBTQ+ groups, which deploys vintage discriminatory tropes, politicians in state houses across the country have introduced a record 340 discriminatory anti-LGBTQ+ bills so far in 2023. The majority of the discriminatory bills target the transgender and non-binary community, particularly children. This anti-transgender legislation includes bills banning transgender youth from playing school sports consistent with their gender identity and bills banning life-saving, medically-necessary gender-affirming healthcare for transgender and non-binary.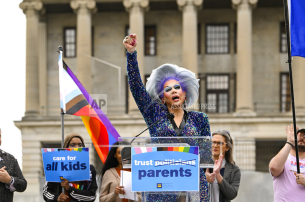 Nearly 1 in 5 of any type of hate crime is now motivated by anti-LGBTQ+ bias and the last two years have been the deadliest for transgender people, especially Black transgender women, we have seen since HRC began tracking fatal violence against the community. Reports of violence and intimidation against LGBTQ+ people have been making news across the country, including in Tennessee - with white nationalists targeting Pride events and Drag Queen story hours at local libraries to shout homophobic and transphobic slurs. Finally, anti-LGBTQ+ stigma also drives alarmingly high rates of depression, anxiety and suicide. 45% of LGBTQ+ youth seriously considered attempting suicide in the past year, but LGBTQ+ youth who have at least one accepting adult in their life were 40% less likely to attempt suicide.
The Human Rights Campaign is America's largest civil rights organization working to achieve equality for lesbian, gay, bisexual, transgender and queer people. HRC envisions a world where LGBTQ people are embraced as full members of society at home, at work and in every community.