Debbie Does Nationals Fundraiser
by Michael Mongera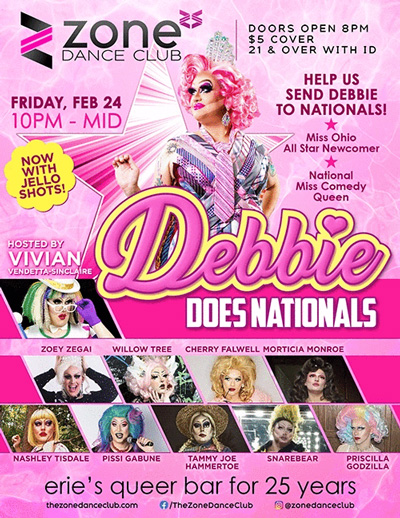 The current reigning Miss Erie, Debbie, is set to compete in the National Miss Comedy Queen pageant. This March, the pageant will feature 20 other drag artists competing for the title in Orlando, Florida. To help support her trip, a fundraising benefit will be held at The Zone, 133 W 18th St, Erie, PA. The event will be hosted by Debbie's drag mother, Vivian Vendetta Sinclaire, on Friday, February 24th.
There will be eleven drag entertainers from the tri-state area ranging from Cleveland to Rochester, along with fellow Erie queens Pissi Gabune, Tammy Joe Hammertoe, and Priscilla Godzilla.
The event will begin right after the regular screening of the latest episodes of Drag Race, around 9 pm, and continue until around midnight. A Jello shot sale will be in effect until supplies last, and all proceeds will go to Debbie. Doors open at 8 pm with a $5 cover.