Miss Erie Pageant 2022
by Michael Mongera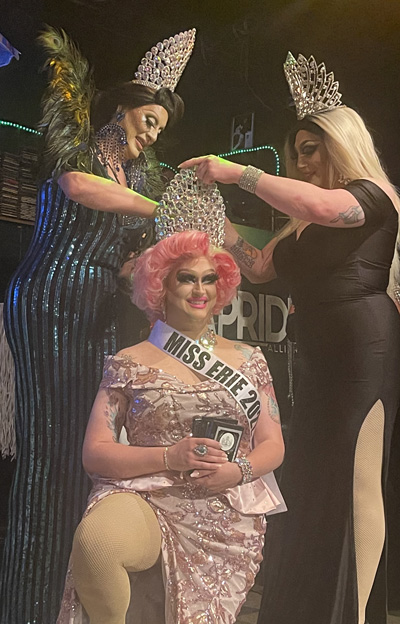 Debbie is crowned Miss Erie 2022 on August 19 at The Zone. Photo by Alex Sphon.
And we have a winner! 2022 Miss Erie Pageant was held on August 19th and crowned native Erie drag performer, Debbie. The 2022 Miss Erie Pageant welcomed contestants, Debbie, Snarebear, Tammy Joe Hammertoe, and Alysin Wonderland, and were judged by the distinguished panel of talent, Michelle Michaels, Molli Jane Norman, Moe Ferrara, Patrick Hiller and Justin Kelso. Sponsors for the event included Northwest PA Pride Alliance, Greater Erie Alliance for Equality (GEAE) and of course, The Zone Dance Club.
The categories included Presentation, Evening Gown and Talent, all set against a tropical cabana backdrop. All contestants showed their unique approach to drag. Debbie showed her camp kitsch in a Katy Perry Left Shark-inspired reveal costume to a swallowed swimmer. Snarebear displayed a beautiful blue ruffle wave head-to-toe facekini, with sandy rhinestone embellishments. Tammy Joe Hammertoe brought their subversive drag to life with a beach-hopping "Sand Witch" presentation. Last but not least, Alysin Wonderland presented a groovy 60's inspired beach surfer/dancer look.
Evening gowns followed. Debbie dazzled in a beige and brown shimmering number. Snarebear accentuated their bearded lady glamour with a wedding dress inspired look. Tammy Joe upcycled used trash bags as a nod to plastic pollution in the sea. Alysin ended the category with an impressive hot pink sequin dress.
Lastly, the talent category was full of showstoppers. Debbie brought the house down with a live performance of The Greatest Showman's "From Now On". Snarebare showcased a lip sync number with light sticks. Tammy Joe included a hilarious spoken word peace and Alysin finished off with a lip sync performance. The judges agreed that Debbie excelled in all categories and snatched the crown. Alysin Wonderland finished as her first runner-up. She is the successor to 2021 winner, Indie Skies.
Former Miss Eries such as Rebecca Mae, Valerie Valentino, Destiny Devine and Misty Michaels Kall and Indie Skies entertained the crowd between categories.