In Memoriam: Georgia Carpenter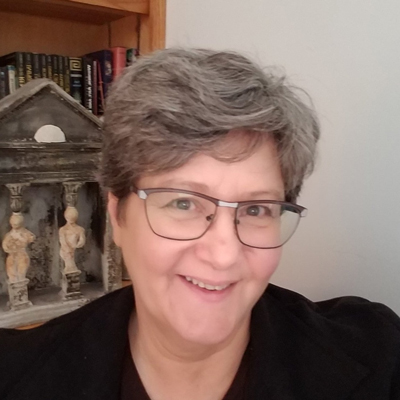 "I am having so much fun living my life! Who knew??" ~ Georgia Carpenter
On Monday, October 26, 2020, Georgia Leona Carpenter, mother of three children and grandmother to seven, passed away at age 59. Georgia was born in Olean, NY on September 21, 1961 and lived in Eldred, PA. In her late teens and early 20s she worked with migrant farm workers, and learned to speak Spanish fluently.
Georgia received her Ph.D in Human Development/ Family Studies at Michigan State University in 2017. She also graduated with a Master's in Human Development at Wayne State University, Detroit.
As a licensed Partner & Family Therapist, she provided therapeutic services at Heron Ridge Associates, Arbor Psychology, Great Lakes Psychology, Living Balance Center and Connections Therapeutic Services where she was also co-owner. She also had a private practice for several years. She had recently been hired at Lotus Psychology Group prior to becoming ill.
Georgia served as adjunct faculty for several semesters at Eastern Michigan University, and had also been employed at New Directions Behavioral Health, the former Triangle Foundation, and SafeHouse Center, Ann Arbor, MI.
Georgia and Helen (Newberger) Streett were domestic partners for over 22 years. They married on July 6, 2013. Georgia is survived by her wife Helen, daughter Juanita Valenciana, sons Noe Jerome Rodriguez, and Joseph Eric Granados Birch, seven grandchildren: Ian, Demetrious, Lucious, Atticus, Tessa, Betsy, and Mae, three brothers: Brian, Rick and Don Carpenter, a step-sister, Susan Jones, her mother Charlotte (Keesler) Carpenter Richardson, step-daughter Sara Streett and dil Laura Streett, step-son Tim Streett and many loving extended family members. Georgia was preceded in death by her father, Jerome.
Georgia was well-loved by family, friends, clients and co-workers. She was spontaneous and full of energy, had a quick sense of humor, and was a master of wit. Not one to 'color within the lines', Georgia challenged convention. She saw the lighter and brighter side of most issues, and her authenticity captivated those who came into contact with her. Georgia had a unique ability to transform a history of trauma into empathy, compassion, and empowerment which she selflessly shared with those who chose to be in her life.
Georgia requested that we scatter her ashes in her hometown of Eldred, PA. A Celebration of her Life will also occur in Michigan outdoors at her home at a time and place to be announced in the spring of 2021. Masks will be required for attendance. For details, message Helen Streett on Facebook or email helenstreett@gmail.com.
Donations toward medical and other expenses are gratefully accepted. Donors may search GoFundMe for "Medical Assistance for Georgia" or by using the following link.
https://www.gofundme.com/f/rcxtv-medical-assistance?utm_source=facebook&utm_medium=social&utm_campaign=p_lico%2Bupdate&fbclid=IwAR1IhBaVz6pxSNwdOev0l1iE8VAro70fdkng_mvbLcobdBrKWet1x3IWP7g