Enter to win a Boxers NYC-PHL Calendar!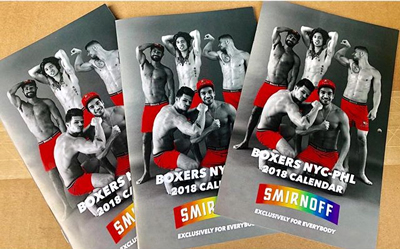 Enter to win a Boxers (Gay Sports Bar) NYC-PHL Calendar! To enter the contest, fill out the form below between Friday, January 26 and Friday, February 16.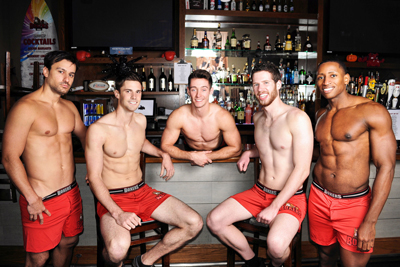 Gay Sports Bar Expands with Two More Locations
2018 will be a big year for Boxers, America's Gay Sports Bar. This week, the bar announced they will open two new locations in New York this year: one on the Upper East Side, open now, and another in Washington Heights late spring. That makes the chain 5 bars strong. They have two NYC locations in Chelsea and Hell's kitchen and one in Philadelphia.
To celebrate, they are releasing a special Boxers 2018 calendar, featuring their brave, brazen and very friendly bartenders in nothing but their boxers, and sometimes not even!
https://www.youtube.com/watch?v=GGBTryG6Nro&feature=youtu.be
Shot by photographer Julio Nuno with graphic design by Mattioli Productions, Erie Gay News is awarding one lucky reader a free calendar. "It's our thanks to customers who have supported us through the years," explains co-owner Bob Fluet, who co-owns the chain along with Rob Hynds.
Boxers first opened in New York's Chelsea neighborhood in 2010. Fluet and Hynds wanted a place they and their teammates could hang out at after their games. In 2012, the bar expanded into New York's Hell's Kitchen with a second location (that happens to serve a delicious brunch on its rooftop!). Then, in 2014, Fluet and Hynds opened their third locale in Philadelphia.
What the communities it serves loves about Boxers is that it mixes elements traditionally found in mainstream sports bars like pool tables, beer on tap, brick oven pizza, 2-for-1 happy hours and flat screen TVs broadcasting sports games with gay touches like DJs, large outside spaces, and Britney Spears music videos. Then, of course, there are the shirtless male jock bartenders in boxer short underwear.
In addition to celebrating its big year ahead, the Boxers 2018 calendar is meant to spotlight their new alliance with Smirnoff Vodka and the Human Rights Campaign. Boxers has teamed with both on the "Love Wins" campaign. For every bottle of its limited edition No. 21 Vodka sold at Boxers, Smirnoff has pledged to donate $1 to LGBTQ causes.
Boxers is carrying the limited edition bottle in all of its locations.
"Love will win in 2018," predicts Hynds. He says Boxers is doing its part by being all-inclusive. Boxers welcome gays, lesbians, transgender, and every letter of the LGBT+ allies into its bars. Even straight men are welcome.
"In order to achieve full equality, the gay community needs to open its arms and show its love to our allies," Hynds continues.
For more information, visit https://boxersnyc.com. Follow on Facebook and Twitter @boxersnyc.
This contest expired on Friday, Feb 16, 2018. Click here for other contests to enter.