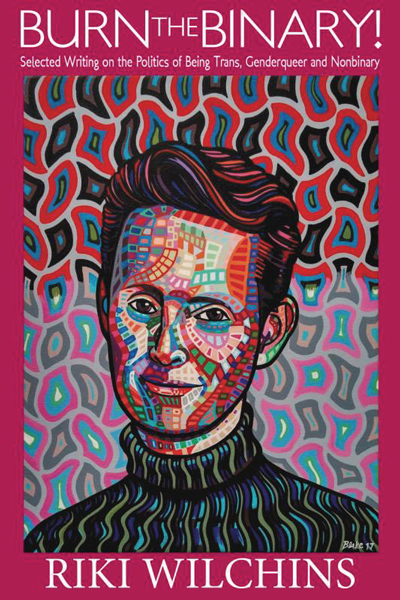 Enter to win a digital download of "Burn the Binary! Select Writings on the Politics of Being Trans Genderqueer and Nonbinary" a New Collection of Essays by Activist, Riki Wilchins from Riverdale Ave Books. To enter the contest, fill out the form below between Tuesday, November 14 and Tuesday, December 5.
New York, NY: October 2nd, 2017 - Riki Wilchins has been in the forefront of the the transgender movement for three decades leading the fight for rights before Caitlyn Jenner was a household name. Riverdale Avenue Books, the leading LGBT publisher, is releasing a collection of essays by Riki Wilchins documenting the struggle of transgender activism titled Burn the Binary! Select Writings on the Politics of Being Trans Genderqueer and Nonbinary.
Her incredible journey for fighting for transgender rights led Riki to author four books on genderqueer, transgender politics and queer theory. She has been a pioneer, influential thinker and writer for a quarter of a century. This single volume offers a selection of Riki's most penetrating and insightful pieces, as well as the best of two decades of Riki's online columns for The Advocate. Her pieces have reached millions of readers and included groundbreaking pieces like I have been told I'm no longer transsexual, Schlumpy White Guys, and the extremely successful essay Transexual Dinosaurs .
The cover features a unique portrait of Riki from artist Blake Chamberlain, a painter and trans man. The painting was originally a part of a grant based portrait series called "Trans American History," which featured ten American Trans activists. Riki was chosen as one of the ten due to her leadership and writings that created trans awareness, advancement, and inclusion.
"Riki Wilchins has been an important and powerfully consistent voice for transgender rights for a very long time," said Publisher Lori Perkins. "This collection shows that journey in an eloquent way."
Downloads of this book are available at RiverdaleAveBooks.com and also at Amazon, Barnes & Nobles Nook, iTunes, Kobo and where digital and print books are sold.
About the Author
Riki Wilchins has been a leading advocate for gender rights and gender justice for 20 years, one of the founders of modern transgender political activism in the 1990s as well as one of its first theorists and chroniclers. In 1995 Riki launched TransexualMenace, the first national transgender street action group, which spread to 41 cities. The following year they launched GenderPAC,the first national political advocacy group devoted to gender identity rights. Riki was an early supporter in the launch the intersex rights movement as well as the movement for alternative sexualities They are the author of four books on gender theory and politics: Read My Lips: Sexual Subversion & the End of Gender; Queer Theory/Gender Theory; An Instant Primer; and Voice from Beyond the Sexual Binary.
Riki's writing and research on gender norms have been published in periodicals like the Village Voice, GLQ, Research on Adolescence and Social Text as well as anthologies like Contemporary Debates in the Sociology of Education, Gender Violence, Feminist Frontiers, Language Awareness, Negotiating Ethical Challenges in Youth Research, Out at Work, Women on Women and The Encyclopedia of Identity. Riki has done trainings on gender norms and nonconformity at the White House, Centers for Disease Control and Office on Women's Health. The New York Times has profiled Riki's work; in 2001 Time Magazine selected them as one of "100 Civic Innovators for the 21st Century."
About Riverdale Avenue Books
Riverdale Avenue Books is an award-winning, innovative hybrid publisher at the leading edge of the changes in the publishing industry. We publish e-books, print, and audio books under 11 imprints: Desire, an erotica/erotic romance imprint; Riverdale/Magnus the award-winning imprint of LGBT titles; Pop featuring pop culture titles; Afraid, a horror line; SFF, a science fiction fantasy line; Truth, an erotic memoir line; Dagger, a mystery thriller imprint; Sports and Gaming featuring sports and gaming titles; VerVe featuring lifestyle titles; and Hera featuring both the true and fictional lives and loves of women aged 35 and up. Started in 2012 by industry veteran Lori Perkins, Riverdale is a full-service publisher, with a foreign rights and film agency department. Visit us atwww.RiverdaleAveBooks.com.
This contest expired on Tuesday, Dec 05, 2017. Click here for other contests to enter.