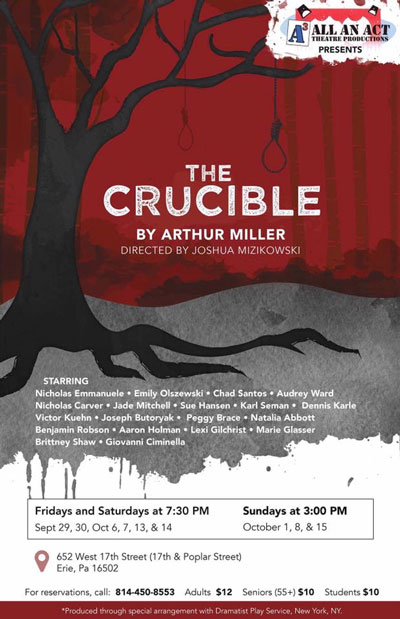 All An Act Theater presents "The Crucible."
This exciting drama about the Puritan purge of witchcraft in old Salem is both a gripping historical play and a timely parable of our contemporary society."The Crucible" won the 1953 Tony Award for Best Play.
This production is directed by J. D. Mizikowski and runs September 29 to October 15. Starring Nicholas Emmanuele, Emily Olszewski, Chad Santos, Audrey Ward, Nicholas Carver, Jade Mitchell, Sue Hansen, Karl Seman, Dennis Karle, Victor Kuehn, Joseph Butoryak, Peggy Brace, Natalia Abbott, Benjamin Robson, Aaron Holman, Lexi Gilchrist, Marie Glaser, Brittney Shaw, Giovanni Ciminella
See "The Crucible" Fridays and Saturdays at 7:30 PM, Sept 29, 30, Oct 6, 7, 13, 14. Sundays at 3:00 PM October 1, 8, & 15
All An Act is at 652 West 17th Street (17th & Poplar Street) Erie, PA. Visit www.allanact.net
For reservations call 814-450-8553. Adults $12, Seniors (55+) $10, Students $10. $1 of every admission benefits Community Shelter Services and Erie's Homeless.