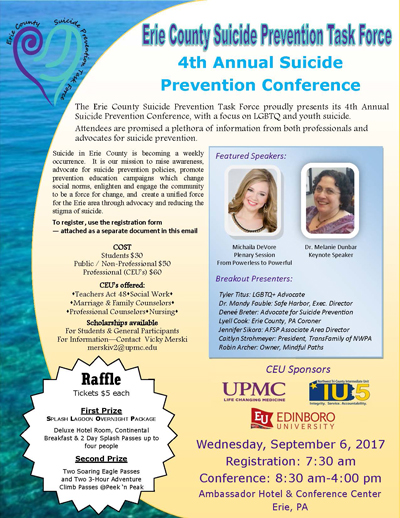 Do you know someone who is depressed, having thoughts of suicide? Have you lost a family member, colleague, friend, client or student to suicide? Have you always wanted to learn more about the topic?
ECSPTF is proud to announce our 4th annual Erie County Suicide Prevention Conference with a focus on LGBTQ and youth suicide. The event is on Wednesday, September 6, 2017 at the Ambassador Hotel & Conference Center, 7794 Peach Street, Erie, PA 16509. You can register to attend the event by filling out and returning the form here by September 1. If you would like to sponsor or vend at the event, fill out the form here. The morning begins with our plenary speaker - -Michaila Devore - a 17 year old student at Saegertown High School. She holds the title of Miss Moraine State Outstanding Teen 2016 and Miss Laurel Highlands 2016. Michaila will explain her program "Powerless to Powerful" where she talks openly about bullying and its connection to suicide among teens and youth.
Our afternoon is launched with our KEYNOTE Speaker-Dr. Melanie Dunbar
Dr. Dunbar is an Erie native who has been in the Behavioral Health field for over 15 years. As a psychologist and licensed professional counselor, her experience has encompassed community, school and home based services, community mental health and private practice. She is currently the Director of Behavioral health at Lake Erie College of Osteopathic Medicine in Erie.
Workshops include:
Morning:
Tyler Titus: "Addressing Suicide Risks in the LGBTQ+ Population"
Dr. Mandy Fauble: "Attitudes, Perspectives, & Ethics in Suicide Prevention" – Part I
Deneé Breter: "A Mother's Perspective – Before, During & After an Attempt"
Lyell Cook: "Erie County Suicide Statistics"
Afternoon:
Jennifer Sikora: "Reducing Risks for Suicide Contagion in Youth"
Dr. Mandy Fauble: "Attitudes, Perspectives, & Ethics in Suicide Prevention" – Part II
Caitlyn Strohmeyer: "Transgender & Suicidal Risks"
Robin Archer: "Supervision of Clinicians Working with Suicidal Clients"
We welcome educators, counselors, students, therapists, directors, nurses, physicians, and all other professional and clinical staff to attend. Scholarships are available – see registration forms attached.