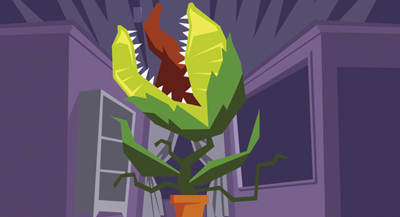 Enter to win a pair of tickets to Little Shop of Horrors from Erie Playhouse, 13 W 10th St, Erie PA! Five lucky winners will get a pair of tickets to see this delightful musical! Please only enter this contest if you will be in Erie for the run of the show (June 9-10, June 15-June 18, June 21-June 25) Winners will need to call in to the box office (814-454-2852 x0), identify yourself as a winner, to make reservations before you come in. Tickets will NOT be sent, just pick them up at the theatre after contacting the box office. The Erie Playhouse will print out the list of winners to have here in the box office, but nothing will happen with the names until the winners call in. To enter the contest, fill out the form below between Tuesday, May 16 and Tuesday, June 6.
A charming tongue-in-cheek, sci-fi smash musical comedy about a meek floral assistant, Seymour, who stumbles across a new breed of plant he names "Audrey II," after his coworker crush. This foul-mouthed, R&B-singing carnivore promises unending fame and fortune to the down-and-out Seymour as long as he keeps feeding it BLOOD. This is the fan-favorite pick from our audiences.
This contest expired on Tuesday, Jun 06, 2017. Click here for other contests to enter.