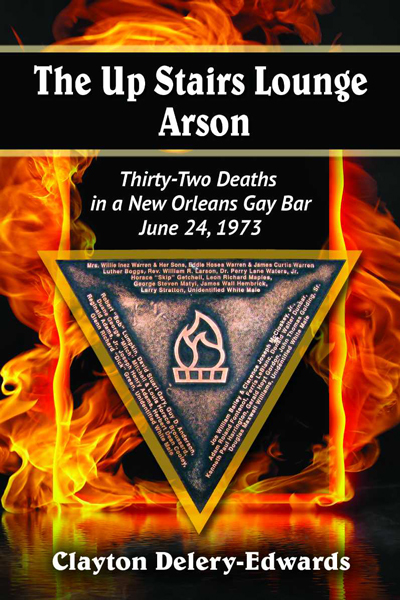 Win The Up Stairs Lounge Arson by Clayton Delery-Edwards! To enter the contest, fill out the form below between December 29 and January 19.
The Up Stairs Lounge Arson: Thirty-two Deaths in a New Orleans Gay Bar
June 24, 1973
McFarland & Company, Inc., Publishers
Softcover: $40.00
Print ISBN: 978-0-7864-7953-5
Ebook ISBN: 978-1-4766-1510-3
20 photos, notes, bibliography, index
216pp. softcover (6 x 9) 2014
About the Book
On June 24, 1973, a fire in a New Orleans gay bar killed 32 people. Arson was suspected, and investigators soon identified a likely culprit, but no arrest was ever made. Government and religious leaders who normally would have provided moral leadership at a time of crisis were either silent or were openly disdainful of the dead, most of whom were gay men.
Although local officials distanced themselves, the fire soon became the focus of an intense national relief effort organized by people such as the pioneering gay activists, Morty Manford and Morris Kight, as well as the Rev. Troy Perry, founder of The Metropolitan Community Church.
Widely acclaimed, The Up Stairs Lounge Arson was a finalist for a 2014 Lambda Literary Award in LGBT Nonfiction and was awarded Book of the Year by the Louisiana Endowment for the Humanities. It was named one of eighteen "Must-Read" books by The Advocate, and one of the ten best books for the spring of 2014 by Queerty. In writing this book, Clayton Delery-Edwards has drawn upon hundreds of sources including contemporary news accounts, interviews with former patrons of the lounge, and the extensive documentary trail left behind by the criminal investigations. The Up Stairs Lounge Arson tells the story of the deadliest fire in the history of New Orleans and what is thought to be the largest mass-killing of gay men in American History. It covers who used to go to this bar, what happened on the day of the fire, what course the investigations took, why an arrest was never made, and what the lasting effects of the fire have been, both in New Orleans and nationally.
About the Author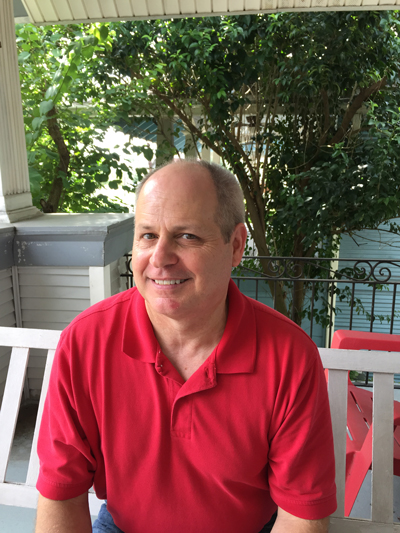 Clayton Delery-Edwards is a Louisiana native and recently retired teacher. He has been interested in the fire at the Up Stairs Lounge ever since first following its news coverage in 1973. He lives with his husband, Aaron, in New Orleans, and is currently working on another book about the city's LGBT History. Until that comes out, you can find more of his work in the books, Fashionably Late (Editor Vinnie Kinsella, forthcoming in March of 2016) and My Gay New Orleans (Editor Frank Perez, forthcoming Spring 2016).
This contest expired on Tuesday, Jan 19, 2016. Click here for other contests to enter.