Enter to win The Ozarks Druid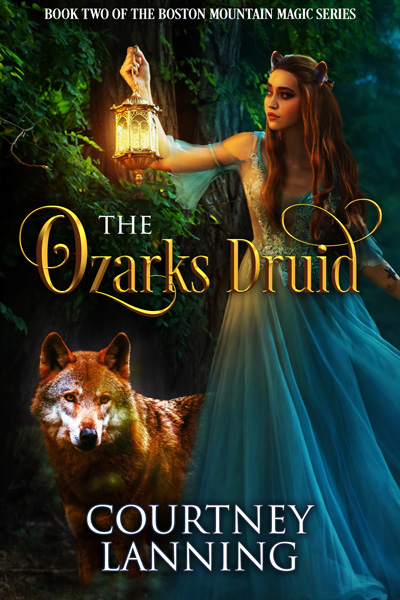 Enter to win The Ozarks Druid by Courtney Lanning. To enter the contest, fill out the form below between Tuesday, August 23, and Tuesday, September 13.
Things could not be going worse for Aoife O'Connell when she's thrown out of her house by her overly zealous abusive guardian, Barb. Her life is soon changed forever when a witch introduces Aoife to her fey guardian, Adrienn. The newly homeless girl learns she's the last living member of a powerful clan of druids who once guarded the Ozarks Mountains from magical threats, both ancient and new.
Binding her soul to a wolf familiar, Aoife sets out to unravel the mystery of her parents' murder. The journey will lead her to dark places, but with the help of Adrienn and Aoife's familiar, Ruad, she'll seek the necromancer that slaughtered her clan and build a new family of her own as alpha of the clan.
In the second novel in her Boston Magic Mountain series, Courtney Lanning once again pokes fun at contemporary romance and fantasy tropes with both humor and respect. Read the first book in the series, Funky Dan and the Pixie Dream Girl!
Courtney Lanning
Courtney Lanning is a journalist in Fayetteville at the Arkansas Democrat-Gazette. She's earned a master's degree in multimedia journalism.
When she's not writing, Lanning is probably watching a movie, playing video games, reading or out running.
She can be found on Twitter under @SapphicCourtney or on Facebook under Courtney Lanning - Author
Riverdale Avenue Books
Riverdale Avenue Books is an award winning, innovative hybrid publisher at the leading edge of the changes in the publishing industry.We publish e-books and print titles under 15 imprints: Desire, an erotica/erotic romance imprint; Magnus, the award-winning LGBTQ+ non-fiction imprint from lifestyle to memoir; Magnus Lit, a collection of LGBTQ+ fiction titles; Pop featuring pop culture titles; Afraid, a horror line; SFF, a science fiction fantasy line; Truth, an erotic memoir line; Dagger, a mystery thriller imprint; Sports and Gaming featuring sports and gaming titles; Verve featuring lifestyle titles; Hera featuring both the true and fictional lives and loves of women aged 35 and up; 120 Days, an LGBT pulp fiction line; Binge Watcher's, featuring Binge Watcher's Guides and Circlet, an erotic science fiction and fantasy imprint. Started in 2012 by industry veteran Lori Perkins, Riverdale is a full service publisher, with a subsidiary rights department.Visit us at www.RiverdaleAveBooks.com.
This contest expired on Tuesday, Sep 13, 2022. Click here for other contests to enter.