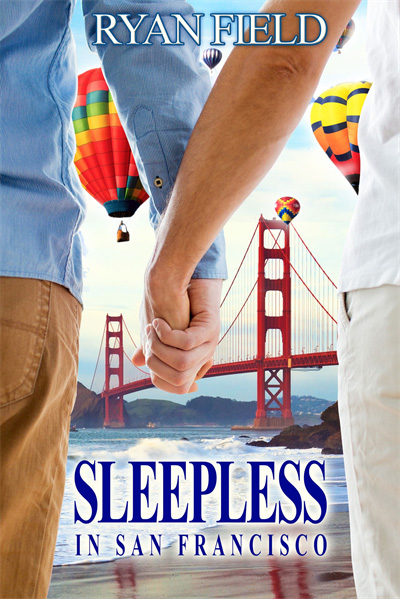 Enter to win Sleepless in San Francisco by Ryan Field. To enter the contest, fill out the form below between Tuesday, June 28, and Tuesday, July 19.
It is hard to believe that it's been 25 years since the classic romance Sleepless in Seattle warmed the hearts of theatergoers. Best-selling M/M author Ryan Fields, gives us his unique reinterpretation of this classic theme with Sleepless in San Francisco.
When young Noah Richardson sends an email to the producers of the home renovation show Dream Away, he has no idea that the host of the show, Jonathan Haynes, will be intrigued and touched by his sad story. Noah, his recently-widowed father, and their black lab, Tucker, have relocated to San Francisco to start a fresh new life and heal their wounds. And their new house is in dire need of renovation.
Jonathan Haynes is desperate to find an interesting house to film for the show. So he gets on a plane and flies to San Francisco the day after he reads Noah's email. But Jonathan soon finds out that Noah's father, Ed doesn't know about Noah's email and he has to convince him to do the show. The fact that Ed and Jonathan wind up on the living room floor having passionate sex during their first meeting doesn't help.
Ed finally agrees to do the show. By the time construction begins, Ed and Jonathan can't get enough of each other. They start having secret encounters to satisfy their desires, never realizing they are building a solid relationship at the same time.
Then a series of events takes control of their lives and changes them all forever. Ed's not sure what to do. He's in love with Jonathan, and he can't get enough of Jonathan's body. But he feels guilty about starting a new relationship with anyone. So he wrestles with the conflict and begs for a sign to help him decide what to do, which leads to a surprise ending that none of them could have predicted.
Ryan Field
Ryan Field is a Lambda-Award winning author of more than 100 LGBT works of fiction. Fangsters: Clan of the Jersey Boys is the first in a series.
Riverdale Avenue Books
Riverdale Avenue Books is an award winning, innovative hybrid publisher at the leading edge of the changes in the publishing industry.We publish e-books and print titles under 15 imprints: Desire, an erotica/erotic romance imprint; Magnus, the award-winning LGBTQ+ non-fiction imprint from lifestyle to memoir; Magnus Lit, a collection of LGBTQ+ fiction titles; Pop featuring pop culture titles; Afraid, a horror line; SFF, a science fiction fantasy line; Truth, an erotic memoir line; Dagger, a mystery thriller imprint; Sports and Gaming featuring sports and gaming titles; Verve featuring lifestyle titles; Hera featuring both the true and fictional lives and loves of women aged 35 and up; 120 Days, an LGBT pulp fiction line; Binge Watcher's, featuring Binge Watcher's Guides and Circlet, an erotic science fiction and fantasy imprint. Started in 2012 by industry veteran Lori Perkins, Riverdale is a full service publisher, with a subsidiary rights department.Visit us at www.RiverdaleAveBooks.com.
This contest expired on Tuesday, Jul 19, 2022. Click here for other contests to enter.