Enter to win The Virgin King by John Michael Curlovich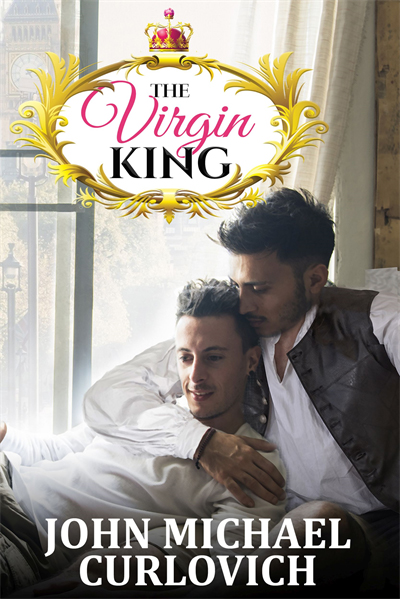 Enter to win The Virgin King by John Michael Curlovich. To enter the contest, fill out the form below between Tuesday, May 5, and Tuesday, May 26.
Something is rotten in Bulvania. When the old king dies mysteriously, a young monk named Raymond is called to take his place.
On the other side of the world, Logan, a handsome photographer, is pulled away from his charmed life to assist his father--Bulvaria's newest American ambassador.
As Raymond struggles to balance the weight of his new crown and the dark past adorning it, he must also struggle with his new love for Logan, who may already have his hands full with a variety of strapping military men.
John Michael Curlovich
John Michael Curlovich is a writer and curmudgeon based in Pittsburgh. He has had more than twenty novels published, as well as numerous short stories. For ten years he served as Arts & Entertainment Editor for the award-winning regional monthly Planet Q. He shares his home with two deaf cats, Mandy and Melanie, who he loves to be dominated by.
Riverdale Avenue Books
Riverdale Avenue Books is an award winning, innovative hybrid publisher at the leading edge of the changes in the publishing industry.We publish e-books and print titles under 15 imprints: Desire, an erotica/erotic romance imprint; Magnus, the award-winning LGBTQ+ non-fiction imprint from lifestyle to memoir; Magnus Lit, a collection of LGBTQ+ fiction titles; Pop featuring pop culture titles; Afraid, a horror line; SFF, a science fiction fantasy line; Truth, an erotic memoir line; Dagger, a mystery thriller imprint; Sports and Gaming featuring sports and gaming titles; Verve featuring lifestyle titles; Hera featuring both the true and fictional lives and loves of women aged 35 and up; 120 Days, an LGBT pulp fiction line; Binge Watcher's, featuring Binge Watcher's Guides and Circlet, an erotic science fiction and fantasy imprint. Started in 2012 by industry veteran Lori Perkins, Riverdale is a full service publisher, with a subsidiary rights department.Visit us at www.RiverdaleAveBooks.com.
This contest expired on Tuesday, May 26, 2020. Click here for other contests to enter.