Win Fall To Grace, featuring the single Picking Up The Pieces by Paloma Faith! To enter the contest, fill out the form below from November 6 through November 27.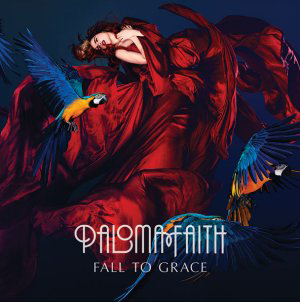 The highly-anticipated U.S. release of Paloma Faith's Fall To Grace is drawing near, and you know what that means...the first single is now hitting the airwaves! The song, "Picking Up The Pieces," reached Top 10 overseas, and is now available on iTunes.
Paloma Faith kicks off her first ever U.S. tour in select cities next month, with performances not to be missed. The Telegraph has already raved, "Performing her latest material, Faith was faultless. As her smoky vocals bemoaned the sweet agonies of long-term love, the crowd were held in thrall."

Faith's full album Fall To Grace entered #2 on the official UK charts, with Mojo raving, "(Faith) sings the bejesus out of these big, open-hearted tunes; warming you with melodramatic hooks and cleverly constructed pop-soul."Prince has declared his love for Paloma and handpicked the young singer to perform at his NPG Music and Arts Festival. In addition to performing and being a mentor on The Voice UK, Paloma Faith has also performed on Later With Jools Holland, The Graham Norton show, BBC Breakfast, Channel 4 Sunday Brunch, had her own Channel 4 special and will be in a new comedy starring Jennifer Saunders.
Recorded with the help of producers Nellee Hooper (Madonna, Massive Attack, Bjork) and Jake Gosling (Ed Sheeran), Faith takes the reins on Fall To Grace, moving away from the reference points that characterized her early music - Etta James, Billie Holiday - and guiding her compositions into a new realm of intimacy. The press is lauding the breakout performer and album, with The Sun dubbing Faith "compellingly unique," and The Times loving her "big, hook-laden pop tunes," while the BBC hailed the single "Picking Up The Pieces" as "a strident, string-laden mega-ballad."
Backed by spectacular strings and gospel singers, lead single
"Picking Up The Pieces"
finds
Faith
exploring the struggle of living with the shadow of a lover's ex, and
Faith's
vocals offer bluesy power and reveal husky emotion.
"My album has taken on a very cinematic mood. "Picking Up The Pieces" is no exception,"
says
Paloma
.
"It deals with the issues of being in a relationship with someone who is still recovering from a previous relationship with another person. It is a song about self doubt and insecurity."
www.palomafaith.com
https://twitter.com/palomafaith
http://www.facebook.com/palomafaith
This contest expired on Tuesday, Nov 27, 2012. Click here for other contests to enter.
blog comments powered by

Disqus
---