Win Third You Die by Scott Sherman from Kensington Books!
Win Third You Die by Scott Sherman from Kensington Books! Erie Gay News is giving away 3 copies of this novel. To enter the contest, fill out the form below from October 9 through October 30.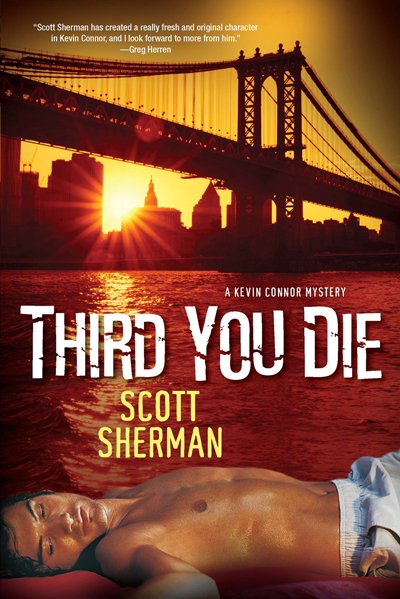 Third You Die from Scott Sherman
Scott Sherman's debut Kevin Connor mystery, First You Fall(winner of the 2009 Lambda Literary Award for Best Gay Mystery), was witty, inventive, and utterly compelling. The second novel in the series, Second You Sin, was equally so. Now Kevin—former call boy and part-time sleuth—is drawn into a new mystery in THIRD YOU DIE.
Finally settling down with his hunky cop boyfriend, former callboy Kevin Connor is giving up the "oldest profession" for a new career: producing his mom's TV talk show, "Sophie's Voice." But when their latest guest—gay porn sensation Brent Havens—ends up floating in the East River after vowing to blow the lid off the adult film industry, Kevin returns to the world of high-stakes sex to find out: Who killed the twink who had everything?
Was it the X-rated director who exploited his star—for his own desires? The bartender boyfriend who hustled more than just cocktails? Or the eye-candy co-star who left the sweet actor for a sugar daddy? Either way, Kevin is zooming in on one twisted plot, but is he ready for his close-up…with a killer?
THIRD YOU DIE
Scott Sherman
Kensington, an imprint of Kensington Publishing
October 2012/Mystery/Trade Paperback/Original
$15.00 ($15 .95 Canada)/978-0-7582-6652-1
Author Residence: Baltimore/Washington DC
This contest expired on Tuesday, Oct 30, 2012. Click here for other contests to enter.
blog comments powered by

Disqus
---