Win Purple Rain: Music on Film by John Kenneth Muir from Limelight Editions. Erie Gay News is giving away 3 copies of this book. To enter the contest, fill out the form below from May 22 through June 12.
.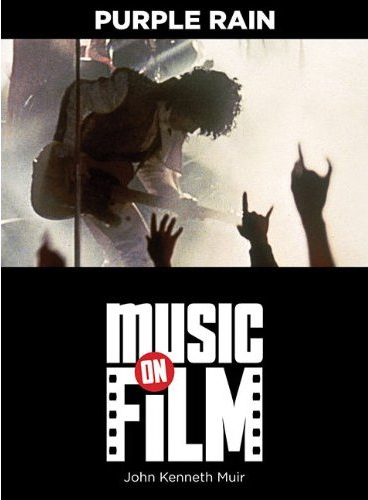 by John Kenneth Muir
The opening scene of Oscar-winning Purple Rain marks the exact moment movie and music fans first encountered and likely fell in love with the inscrutable, ultimately unknowable Prince. This low-budget film unexpectedly debuted at the number-one slot in the box office and went on to win multiple awards. Now, 25 years after this beginning of the "Purple Age of Prince" (as Tavis Smiley put it), Prince remains that same inscrutable Kid standing semi-obscured in the mist, and Purple Rain is still recognized prominently on critical top-ten lists.
In Purple Rain: Music on Film (April 2012, Limelight Editions), John Kenneth Muir explores in detail the behind-the-scenes struggles and triumphs of the film's making, from the trouble casting a female lead to star opposite Prince, to concerns that the movie's urban vibe and sound wouldn't play in Peoria. Featuring extensive new interviews with the film's director, producer, and assistant editor, Purple Rain: Music on Film reveals a 1980s cult-classic as you've never seen, heard, or experienced it before.
John Kenneth Muir (Charlotte, NC) is the author of two dozen film and TV reference books, including This is Spinal Tap: Music on Film (Limelight Editions), An Askew View: The Films of Kevin Smith (Applause Books), and award-winning Horror Films of the 1970s. He is the creator of the web series The House Between and blogs daily at Reflections on Film/TV (reflectionsonfilmandtelevision.blogspot.com). He is available for interview.

April 10, 2012 9780879103965 156 pages $9.99 Paperback 7.5 x 6.5 8-page color photo insert
For a guest post by the author and to watch a video book trailer, visit our blog: http://onstageandbackstage.wordpress.com/2012/03/08/purple-rain/
This contest expired on Tuesday, Jun 12, 2012. Click here for other contests to enter.
blog comments powered by

Disqus
---