Win The Truth of Yesterday by Josh Aterovis from PD Publishing!
Win The Truth of Yesterday by Josh Aterovis from PD Publishing! Erie Gay News is giving away 3 signed copies of the latest book from this award-winning mystery series. To enter the contest, fill out the form below from January 7 through January 28.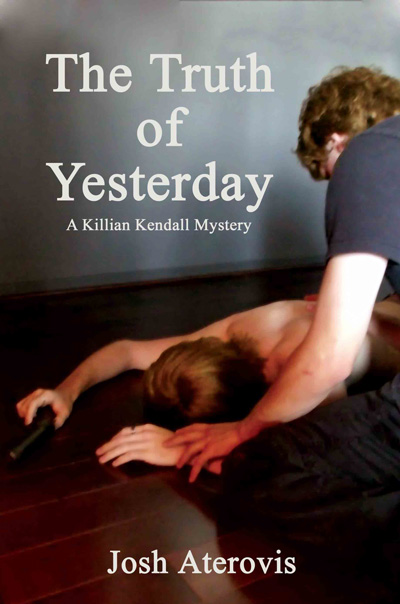 "We like to think of life as a story — complete with a nice, neat beginning, middle, and end. Real life is seldom that orderly. We often forget just how powerful the past can be. After all, it's over and done with, so how can the past affect the present? The truth is, while it may be over, it is seldom done. The past has a way of twisting our perception, our feelings, and even our reality. Things we thought long behind us can suddenly be very much before us."
Killian is thrilled when his first real case takes him on a surveillance trip to Washington D.C. — and with his boyfriend Micah, no less. When Micah takes him out to celebrate the successful resolution of his case, Micah's past comes back to haunt them in a big way. Killian is stunned by what he learns, and even more shocked to hear about the murder of Micah's former lover, Paul. The truth threatens to tear them apart, but at the same time, Killian finds himself drawn to find Paul's killer.
Meanwhile, he's also been asked to investigate an old friend whose behavior has changed radically over the last few months. Killian is worried Jake may be involved in something dangerous...and he has no idea how right he is.
Entering into the perilous and often grim world of male escorts, Killian discovers that things are seldom what they seem and everyone has a past.
The truth of yesterday becomes a lie tomorrow.
The Truth of Yesterday is author Josh Aterovis's fourth book in the Killian Kendall mystery series. His first book, Bleeding Hearts, introduced gay teen sleuth Killian Kendall, and won several awards, including the Whodunit Award from the StoneWall Society. He followed up by winning the Whodunit Award again the following year for Reap the Whirlwind. The third book in the series, All Lost Things, was a finalist for the 2010 Lambda Literary Awards for Gay Mystery. Aterovis was born and raised on the Eastern Shore of Maryland, where his books are set. He now lives in Baltimore, MD.
Praise for The Truth of Yesterday by Josh Aterovis
"The Truth of Yesterday is a non-stop thrill ride with surprising emotional depth. You can't put it down... but you won't want to put it down while you turn the pages of this well-crafted mystery."
Rob Byrnes
Lambda Award Winning Author
"Author Josh Aterovis once again serves up a generous helping of his trademark blend of romance, mayhem, supernatural creepies, and a bevy of hotties along the way, to keep everything at the boil. A winning read."
Victor J. Banis
LGBT Literary Pioneer and Author of The Man From C.A.M.P.
"It's always a joy to get a new work by Aterovis. He's one of the best publishing today."
Greg Herren
Lambda Award Winning Author of the Chanse McLeod Mysteries
The Truth of Yesterday
Josh Aterovis
PD Publishing, Inc.
January 2011/Fiction/Trade Paperback
This contest expired on Friday, Jan 28, 2011. Click here for other contests to enter.
blog comments powered by

Disqus
---